OMG, an all-in-one makeup kit I actually LIKE
But then I found out about this one from Smashbox: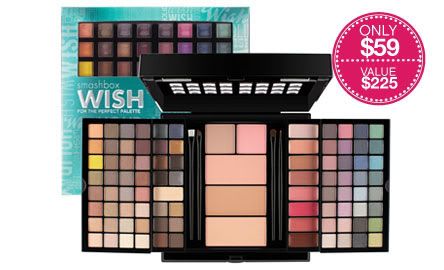 ZOMG. OK, let's break it down. You get:
64 Eye Shadows (I'm new to Smashbox shadows but I played a bit and can't complain! These are roughly dime-sized - if dimes were square shaped. Great color selection, including mattes, LOTS of shimmers, and a few glitters. Payoff is good - not like Makeup Forever good, but MAC good. I wish there were more mattes, but it's still a great selection.)
8 Cream Eye Liners (I've used these before, they're really easy to apply and it's great to have a color selection. Layering eyeshadow on top makes them even more opaque and longer lasting.)
6 Brow Tech Powders (Smashbox is famous for their brow kits, and this is an excellent color selection of matte brow powders that can also double as neutral eyeshadows.)
1 Brow Wax (I tend to stick with clear mascara, but sometimes wax is more effective to hold stubborn hairs in place.)
8 Lip Glosses (I'm also new to these, but they seem nice enough. I recommend keeping this section tucked in when applying eyeshadow; hopefully that will minimize product cross-pollination. Same with the cream liners on the other side.)
2 Blushes, 1 "Complexion Brightener" (basically just a pale peach blush), 1 Highlighter (pale shimmery powder), and 1 Bronzer. (This is the center section of the box. Next to the brushes, this one's my least fave. There's not much color selection here and the shades really only suit lighter skin. Also, they're all very shimmery, except for the bronzer. It's definitely useful to have a matte bronzer kicking around... I'm sick of everything being shimmery, ye gads. Cute in person, annoyingly obvious in photography. Mineral foundations, I'm looking at you.)
4 Mini Brushes - Shadow, Liner, Brow & Lip. (About the same as the brushes you get with such kits - crappy, but useful for on-the-road. The white flat eyeliner brush performs well with the cream liners, but the others are kinda meh.)
The construction of the palette is where you can tell the money was saved - you have to be gentle with the shelves, because I can imagine they'd be pretty easy to yank off or misalign if you aren't careful. And you'd have to be careful with the whole kit, because it would be MESSY if dropped.
In conclusion? You could do a LOT worse for $59. (Total. Shipping wuz free.) This is one of those rare products that builds a collection instantly, and the quality is better than what you'd usually get in an all-in-one. Highly recommended for your holiday wish lists or a self-indulgent splurge:
http://www.smashbox.com/WISH-FOR-THE-PERFECT-PALETTE
.
Also, hi! I've been swamped with my new job (which rocks) and my makeup gigs (which also rock). Hope everyone's enjoying their Autumn.
OK, I stand corrected. I've never really been drawn to those clunky plastic palettes filled with cheap makeup... I don't like how the powders sprinkle all over the lipstick and, I dunno, I'm just picky. The Sephora Blockbuster palette didn't impress me at all, quality or execution-wise. Just... clunky and sloppy.